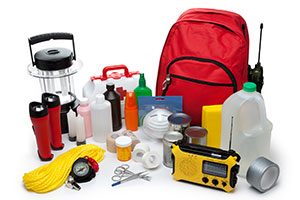 Major storms or hurricanes at any time of year can lead to home damage and/or power outages that can last not just for days but weeks! However, if you're properly prepared, you can mitigate how a storm impacts your home and property. You can use these important storm prep tips to help you do it:
Make sure to listen to ALL weather advisories and that you heed ALL warnings
Most county emergency management offices now have a text messaging system that you can sign up to get alerts about severe weather. Also, download emergency apps from NOAA and the Red Cross. Send the text message HURRICANE to 43362(4FEMA)2 to get notifications about safety and other important information.
Download FEMA's Guide to Hurricane Preparedness which covers everything from smart ways to protect your home, gathering supplies and features important information about dealing with the aftermath of any major disaster.
Consider getting a whole house or standby generator but don't wait until just before the storm to get one. Supplies often cannot meet demand with a storm on the way.
If you have a generator, test it out before it might be required. Think about how you are going to use it, how long and how you can store it safely during the storm.
Get a NOAA Emergency Weather Radio to alert you when emergency weather situations are imminent even if you're asleep or don't have power. Many devices can be charged with external battery packs that charge cell phones or hand cranks.
Make sure that gutters are cleaned regularly. Clogged gutters can lead to water damage to your walls, basement and foundation.
Get your roof inspected to make sure you don't have loose or broken roof tiles, and that everything is sealed tightly to prevent flooding from the roof.
Make sure that any large trees close to your home are strong and won't fall during a storm.
Put outdoor furniture, garbage and recycling containers or anything else that might turn into a projectile in high winds into your garage or basement.
Pack a home emergency readiness kit that includes non-perishable food, flashlight, batteries, plenty of water, hand sanitizer, blankets, clean clothing, paper plates, plastic utensils and cups, pillows and any required medication.
Pack an evacuation kit for each member of your family just in case you may be forced to evacuate your home.
Put legal, financial, and insurance documents along with health records, the title to your home and cars, marriage licenses, and other important documents and papers in a storm and fireproof box in a location that's quick and easy to grab if you're evacuated.
Make sure that any required medicine or medical devices are either in the home before the storm hits or with you if you need to leave.
Unplug appliances, water heaters and remove anything you can from the basement, to minimize damage.
Unplug appliances, water heaters and remove anything you can from the basement to minimize damage.
Turn the refrigerator up to the highest setting. The Red Cross suggests freezing leftover food, deli meats, or cheeses, and milk which prevents them from exposure to temperatures 40 degrees Fahrenheit for more than two hours.
Turn off the gas in your home to avoid the potential of carbon monoxide poisoning.
If there is the potential for home flooding, be safe and turn off electricity.
FEMA http://www.fema.gov/media-library/assets/documents/98105