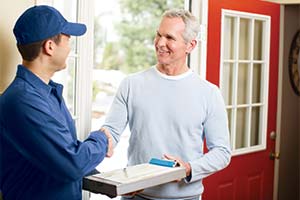 Yes! Here's why…
Energy costs always seem to be rising. But that's not limited to oil! Oil remains one of the best fuel options to heat your home that provides you with the best value.
If you're undecided about which fuel to use to provide your home heating and comfort needs or thinking of converting to natural gas, there are lots of great reasons why 9.5 million American homeowners choose oil over natural gas to heat their home.1


Check out these facts:
Heating oil is clean and dependable
• Oil heat burns 95% cleaner now than in 1970 and the latest ultra-low sulfur products and biofuels, which we offer, continue to make it even cleaner and greener.
• Residential heating oil equipment is environmentally-friendly and barely creates emissions.
• New oil heat systems don't create soot, dirt or odors in the home when properly maintained.
• Oil creates 140,000 BTUs of heat per gallon while a gallon equivalent of Natural Gas produces 100,000 BTUs.3
Heating oil is energy efficient
• Oil equipment is 16% more efficient on average than gas equipment.
• New systems boast energy-efficiency ratings from 83%-94%! 5
• Oil heating systems today use 25% less fuel than they did 20 years ago.6
• The hot water recovery rate of an oil-fired water heater is twice as fast as a gas water heater and three times as fast as an electric water heater. And, oil heat provides more efficient residential warmth than gas.
Heating oil is safe
• Inhalation of oil fumes is not fatal — unlike gas, which is known as "the silent killer" and is the leading cause of death from carbon monoxide poisoning in the U.S.7
• Oil is not explosive and only ignites within the combustion chamber of an oil-burner or furnace. Plus, oil will not burn in a liquid state.
• Oil system malfunctions produce clear warning signs before releasing carbon monoxide.
Converting to natural gas is expensive
• A total gas heating conversion could run as high as $9,000! Converting will      NOT save you money.2
• It's financially unwise for consumers to convert from heating oil to gas heat      according to the Consumer Energy Council of America (CECA).
Heating oil provides you with good value
• Heating oil prices dropped 23% during the 1980s and 1990s. More recently, prices for other goods and services have risen much more than the price of heating oil.
• Even with rising energy prices, the cost of heating oil has traditionally been cheaper in 5 out of the past 7 years!
Of course, like any other form of energy, oil is a commodity traded on the open market, so you can expect prices to go up and down, depending on many factors. But, competition among thousands of oil heat companies plays a role in ensuring great value and service.
Now you have the facts, think twice before considering a conversion to another heating fuel and if you use oil to heat your home, you're using the best choice for warmth, reliability, energy efficiency, safety and value. 
1 Source: Oil Heat Powered By Clearburn Science. The Clear Choice! NORA (National Oil Heat Research Alliance).
2 Source: www.houselogic.com/articles/should-you-convert-oil-gas-heating 3 Source: www.cityfuel.net 4 Source: www.cityfuel.net 5 Source: www.cityfuel.net 6 Source: National Oilheat Research Alliance, America Petroleum Institute 7 Source: Energy Answers Today Pocket Guide by Primedia www.energyanswerstoday.com